Seven.One Entertainment Group
"It is our motivation to inform people in Germany and help them make up their own minds about issues"
17 schoolchildren draw party leaders Annalena Baerbock, Olaf Scholz and Armin Laschet out of their shells with their questions about running for chancellor in the German federal elections, at prime time on SAT.1. To support the fight against COVID-19, TV presenters Linda Zervakis and Matthias Opdenhövel received their booster vaccines live on their own show on ProSieben. While campaigning to become Germany's next chancellor, Green party leader Annalena Baerbock gave her first extensive interview on ProSieben and – in the final three-way debate on SAT.1, ProSieben and Kabel Eins – participated in the last and arguably most important face-off with her two opponents ahead of the federal elections. As a matter of conviction, Seven.One Entertainment Group decided to take a strong stance and afford far greater scope to socially relevant topics in its programming in 2021. The next big step for ProSiebenSat.1 Group's Entertainment segment is expanding production activities to encompass an in-house newsroom: From the beginning of 2023, cross-platform news reports tailored to the target group will be produced directly at headquarters at Unterföhring in Bavaria. In this interview, Seven.One Entertainment Group's Editor-in-Chief, Sven Pietsch, explains how the company already started implementing its content strategy through relevant topics, local in-house productions and live programming last year and how it will continue to address topics and formats in this way moving forward.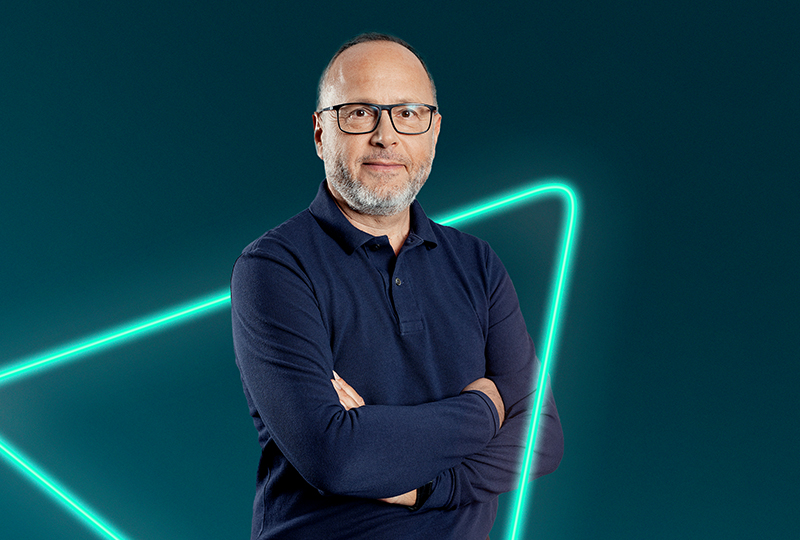 Starting in 2023, Seven.One Entertainment Group will produce its own news reports. And, for some time now, the company has been appreciably expanding its own information formats. Why is timely political news coverage so important?
Sven Pietsch: It forms part of our successful, ongoing strategy of producing local, current and relevant content under our own steam. It is our motivation to inform people in Germany and help them make up their own minds about issues. We intend to shoulder even more of this important sociopolitical responsibility going forward. With the rise of fake news and information flows driven by algorithms, independent, timely news coverage is more essential than ever before. There is no mistaking how people's need for reliable, high-quality information programs has grown considerably in recent years. In response, we have significantly increased the number of sociopolitical information programs on our schedule. Thilo Mischke's documentary for ProSieben in 2020 "Rechts. Deutsch. Radikal." (Right-Wing. German. Radical.), for instance, attracted international attention. And the ProSieben news magazine show "Zervakis & Opdenhövel. Live." has grappled with current issues of concern to people in Germany on a weekly basis since 2021.
What are the advantages of having an own newsroom?
Sven Pietsch: Creating our own content is, of course, an advantage in itself. Plus, topical reporting opens up new avenues for us. Where necessary, we can, for instance, respond faster and more flexibly with special broadcasts at short notice. By fully integrating the central newsroom into our campus in Unterföhring, the staff will be able to work side by side with the magazine editorial teams. This way, we are bundling our information expertise and our journalistic savvy even more closely under one roof. It means we will also be able to distribute our news reports across all media platforms. The extent of how significant these new additions are for us and our viewers was already evident in our coverage of the German federal elections.
Classroom cross-examination: In "Kannste Kanzleramt?" (Facing the Classroom) in SAT.1, the three candidates for German chancellor, Olaf Scholz, Armin Laschet and Annalena Baerbock, fielded questions from interested and informed schoolchildren from across the country. With their probing on issues from climate protection through digital learning to the withdrawal of troops from Afghanistan, the children aged 8 to 13 put the heat on the seasoned politicians during prime time.

For the first time, a chancellor candidate gave an initial in-depth interview on ProSieben. In an exclusive interview with Katrin Bauerfeind and Thilo Mischke, the newly elected chancellor candidate for Germany's Green Party, Annalena Baerbock, explained how she would like to shape the country's politics after the 2021 federal elections. And for the first time in its history, the station aired a political interview accompanied by live sign language interpretation for deaf and hard-of-hearing viewers.

Prime-time politics on ProSieben: In the first edition of the "ProSieben Bundestagswahl Show," (The ProSieben federal elections show) host Louis Klamroth welcomed chancellor candidate Annalena Baerbock. During the in-depth, one-on-one interview and direct interactions with citizens, Mrs. Baerbock tackled the studio audiences' specific concerns, needs and demands.

In the run-up to the 2021 German federal elections, Linda Zervakis und Claudia von Brauchitsch grilled chancellor candidates Olaf Scholz, Annalena Baerbock and Armin Laschet in a final TV debate, broadcast on ProSieben, SAT.1 and Kabel Eins. The debate was also livestreamed on Joyn, prosieben.de, sat1.de and kabeleins.de as well as the "Galileo" show's YouTube channel.

With programming changes at short notice, ProSieben and SAT.1 responded promptly in November to growing concerns over the spread of the coronavirus in Germany with a special live broadcast, "Corona. Spezial" (Corona special report). During prime time, presenters Linda Zervakis and Claudia von Brauchitsch updated viewers on the current situation and the decisions taken as part of the Conference of Federal State Prime Ministers in Berlin.

In September 2021, the new ProSieben magazine show "Zervakis & Opdenhövel. Live." (#ZOL) kicked off with co-hosts Linda Zervakis and Matthias Opdenhövel. Each week, the pair tackle current topics, such as coronavirus prevention measures, inflation, working conditions in nursing professions and the effects of climate change. They talk to those affected and those responsible as well as experts and prominent guests.

With the help of the Malteser humanitarian relief agency, #ZOL put its weight behind the fight against COVID-19 by organizing a short-term vaccination drive in November at the ProSiebenSat.1 headquarter in Unterföhring. Anyone interested in receiving an initial or booster shot could visit the two vaccination buses. Linda Zervakis and Matthias Opdenhövel not only drove the campaign, but also received their booster shots live on TV.
In the run-up to the 2021 federal elections, the ProSiebenSat.1 platforms' political reporting was not only more intensive but also more detailed and varied than ever before. With hindsight, do you consider it a success?
Sven Pietsch: Absolutely! This was an incredible team effort involving many different colleagues and departments. We aired more than 26 hours of special broadcasts, created eight new TV formats and produced 76 reports tailored specifically to the federal elections. In total, more than 53 million viewers (aged 3 years+) watched our election coverage. And it wasn't just in terms of the numbers but also the quality of the programs that we achieved great success. Our viewers especially appreciated that our style and method of reporting bore our distinctive stamp in that, for example, we introduced new angles and approaches to the political discussion while presenting the candidates and the issues in a fresh light. "Kannste Kanzleramt?" (Facing the Classroom) and "Die ProSieben-Bundestagswahl-Show" (The ProSieben federal elections show) are proof positive that, without verging on the apolitical, even unconventional narrative styles are welcomed by a broad audience.
The increasing involvement of private broadcasters in more serious disciplines holds out the prospect of something that public broadcasters have been so unwilling to implement: a deritualization of political news coverage that operates according to the same basic principles over and over again, and is increasingly tiring to watch.

April 25, 2021
For the first time, a chancellor candidate gave an initial in-depth interview on a private station. The trade press DWDL has referred to this as a "deritualization of political news coverage." The media response to the final three-way TV debate on ProSieben, SAT.1 and Kabel Eins was highly positive. What conclusions have you drawn from that?
Sven Pietsch: Of course, we are totally thrilled about the accolades. They are a testimony to the gains in relevance that our political reporting has made. More than that, they confirm our strategy is correct and spur us on in further strengthening our focus on independent content and formats in this line. In the final three-way TV debate, more than 4 million viewers (aged 3 years+) got to watch political events play out before them on our stations. In the run-up to the federal elections, our program garnered a great deal of attention and approval, especially from younger target groups. By addressing young audiences in a more specific and age-appropriate way, we reach viewer groups that hardly, if ever, watch public broadcasts.
Under the slogan #MachdenUnterschied (#Makeadifference), the Seven.One Entertainment Group's "Geh wählen!" (Go vote!) campaign was another youth-centric vehicle. How important is it to appeal to young viewers on formats other than TV? And what role does social media play in this?
Sven Pietsch: In today's media landscape, it is essential that we use our content to make our presence felt across all platforms. In considering how to strategically distribute content to optimum effect and attract as much attention as possible, social media has a major role to play, above all for young target groups. For our multi-station "Geh wählen!" campaign, we used all of our stations' TV and online channels as well as our social media platforms to achieve 148 million gross exposures – an extremely large slice of the population – and appeal especially to young voters and non-voters.
This three-way debate was by far the most interesting of the three issues.

September 20, 2021
Looking ahead, what's on the agenda for 2022?
Sven Pietsch: This year will be devoted to building our new newsroom. We are entering a decisive phase in our preparations to produce and broadcast our news formats from Unterföhring in January 2023. What's more, we will also expand our investigative journalism and work on reaching new documentary and reportage milestones, as we recently did with "SAT.1 investigativ" (SAT.1 investigates). Notably with our political reporting, we aim to keep developing new ways of presenting current issues so that they remain interesting and relevant to our viewers, even outside of elections. 2022 will definitely be an exciting year.
Quiz
Seven.One Entertainment Group channels have provided extensive COVID-19 coverage since the start of the pandemic. To accommodate the "ProSieben Spezial: Corona Update. Live." (ProSieben special coronavirus update. Live.) broadcast, the channel regularly changes its programming at short notice. Between the start of the pandemic and the end of 2021, how many of these coronavirus special reports did the station air before its daily magazine format "taff"?
Correct! ProSieben prioritized updates right from the beginning of the pandemic, broadcasting its first edition of the special report on March 16, 2020. Between March 2020 and December 2021, the station aired a total of 93 of these special reports on the pandemic.
Unfortunately not correct! ProSieben prioritized updates right from the beginning of the pandemic, broadcasting its first edition of the special report on March 16, 2020. Between March 2020 and December 2021, the station aired a total of 93 of these special reports on the pandemic.
Joko & Klaas LIVE
#NichtSelbst
verständlich:
Turning 15 minutes into TV history
"When Joko and Klaas go live on air with the 15 minutes they won before, we never know what to expect on social media. #Nichtselbstverständlich (#NotAMatterOfCourse) has caused one of the biggest love storms in ProSieben history," says Heike Allerdisse, Head of Community Management at Seven.One Entertainment Group. Heike and her team manage and comment on viewers' and users' feedback on social media. And the edition of "Joko & Klaas LIVE" on March 31, 2021 was no exception. By triumphing over their employer in the "Joko & Klaas gegen ProSieben" (Joko & Klaas vs ProSieben) challenge, Joko Winterscheidt and Klaas Heufer-Umlauf once again secured an extra quarter of an hour of airtime. What was supposed to be 15 minutes turned into 402 – nearly seven hours. An evening that would go down in TV history. The real-time documentary #NichtSelbstverständlich took a hard-hitting look at the German healthcare system's nursing crisis. In the linear TV broadcast alone, a total of 5.84 million viewers (net reach of 3 years+) followed the live feed from nurse Meike Ista's body cam without commercial breaks, as she completed a full shift.
"In no time at all, the hashtag #NichtSelbstverständlich topped Germany's Twitter trends," Heike says. "Over 46,000 tweets and an additional 23,000 comments on Facebook praised the way of raising awareness around an important issue. Many caregivers shared their experiences and called for better conditions in clinics and care facilities. Viewers wrote that they would stay tuned throughout the broadcast in recognition of the work nursing staff do." A selection of viewers' responses was displayed on screen during the documentary.
#NichtSelbstverständlich did not go unheard. With online media and newspapers picking up on the documentary and the huge nursing crisis in Germany, the message from "Joko & Klaas LIVE" even sparked a reaction in the political sphere: "It's good to see nursing covered on prime time. Caregivers deserve our respect, our thanks and above all better working conditions," said CDU politician Jens Spahn, German Federal Minister of Health at the time, commenting on the ProSieben documentary.
Joko and Klaas are doing a special program on ProSieben about the nursing crisis. This goes far beyond Corona – and is absolutely television worth watching.

April 1, 2021
"What makes these 15 minutes so exciting is that neither the ProSieben team nor the viewers know how Joko and Klaas will fill the time," says Channel Manager Daniel Rosemann. "#NichtSelbstverständlich was an exception and came about as a result of the best partnership. Klaas told me about the idea over the phone. He didn't have to convince me. I think it's vital for a private media company like ours to provide a platform spotlighting social issues. Joko and Klaas always do this in a special way. This ensures extreme sustainability of important messages."
This sustainable impact has been achieved by #NichtSelbstverständlich in times of news with a short lifespan, as Heike Allerdisse observed. "We were still dealing with the topic a week after the broadcast. Schools requested the documentary so that it could be discussed in class. Even to this day, the hashtag continues to be used to highlight working conditions in nursing."
"Joko & Klaas LIVE: #NichtSelbstverständlich" was awarded with the German Television Award in the category for best infotainment in 2021.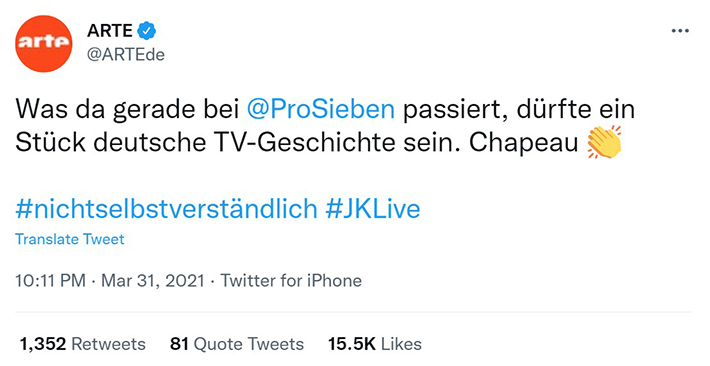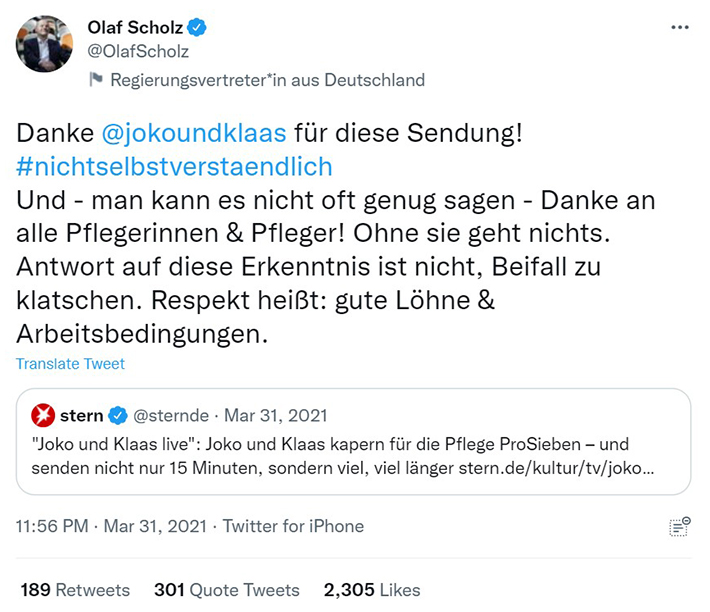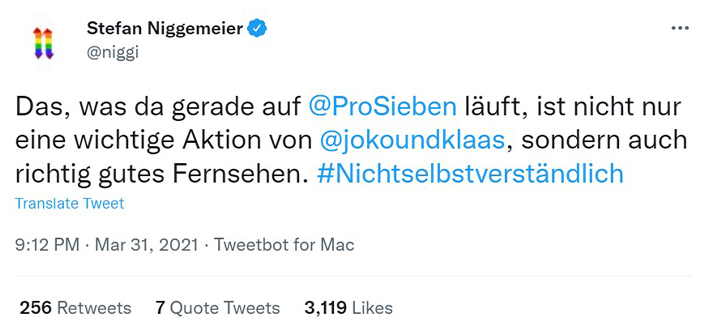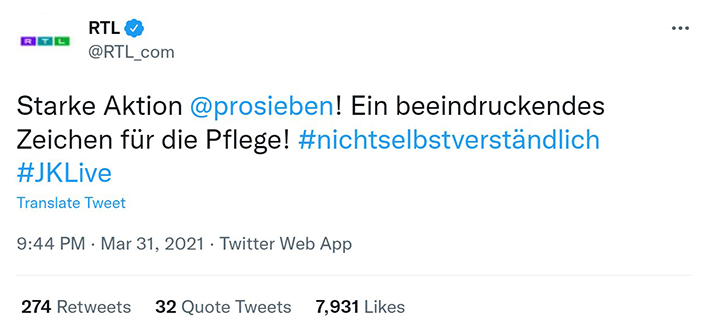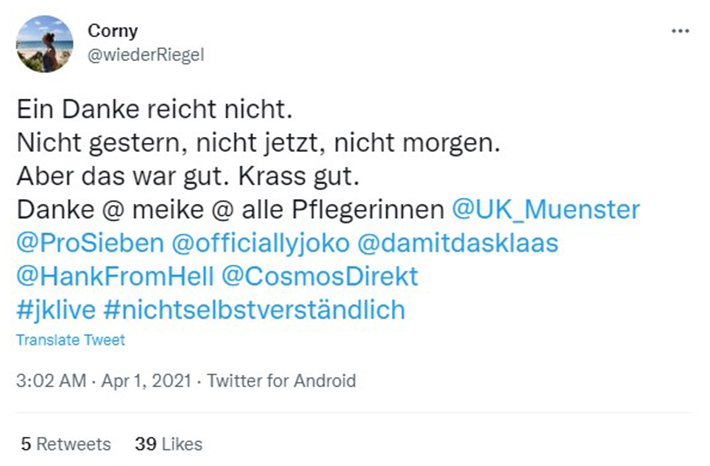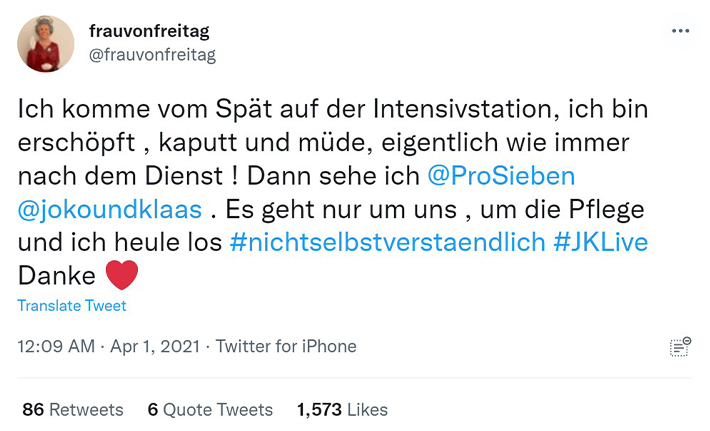 The footage got under the skin, the reactions on Twitter were overwhelming. (...) The duo knows how to generate the greatest possible reach, write television history and above all: use their own reach in the best possible way.

April 1, 2021
Seven.One Entertainment Group
Goals, touchdowns, and a whole lot of power play: Seven.One Entertainment Group goes full throttle on sports in 2021
The half-time break has come to an end: After nearly two decades, the SAT.1 ball is rolling across Bundesliga (the German soccer league) fields once again with the broadcaster's "ran" sports program. Not only that, but SAT.1 is looking innovatively to the future with the first Formula E World Championship. At ProSieben, football fever abounds, with all NFL playoff games being broadcast live for the first time ever. In 2021, Seven.One Entertainment Group gave fans unforgettable sports moments, demonstrating just how important it is to the Group's content strategy to broadcast major sporting events and provide editorial coverage. This strategy of systematically growing its sports portfolio by focusing on proprietary content, smart broadcasting across all platforms and innovative marketing products has proven highly successful. "2021 was an exciting year for sports fans, and for us. We spent many enjoyable evenings watching big soccer games on 'ran SAT.1 Bundesliga.' We also took the NFL to a whole new level in Germany. And we've got off to a great start to the future of motorsport with the first Formula E World Championship," explains Alexander Rösner, Senior Vice President of Sports at "ran."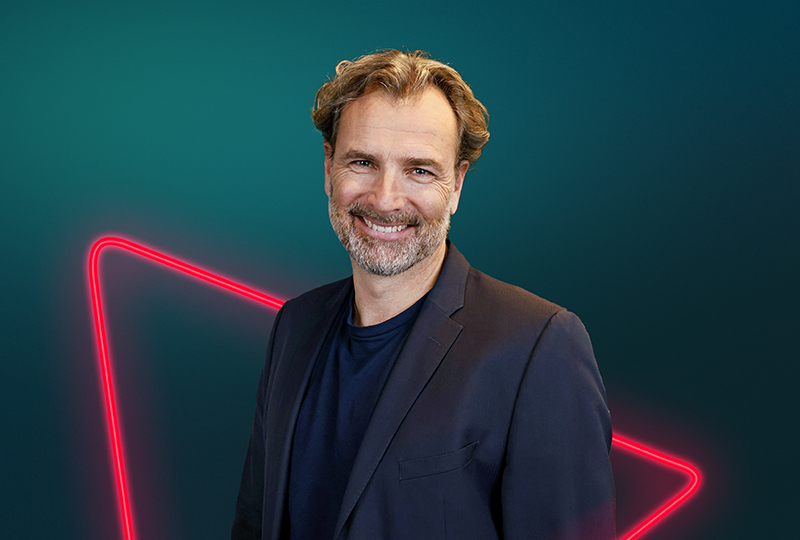 The Bundesliga soccer ball is rolling again on SAT.1: For four seasons, SAT.1 has secured the sole and exclusive rights to broadcast German Bundesliga soccer games live on free TV. "The return of SAT.1 and 'ran' to the top echelon of soccer after 18 years was, of course, a special moment – and quite a successful one, too. SAT.1's live Bundesliga soccer matches regularly attract around 10 million viewers (net reach from age 3)," says Alexander Rösner. The channel's "ran SAT.1 Bundesliga" sports coverage goes far beyond simply broadcasting nine live matches each season. In the interest of monetizing its licensing rights, Seven.One Entertainment Group increased marketable reach across all platforms last year. Alongside new programming such as "ran Bundesliga Flash," viewers were able to livestream all matches on Joyn as well as on the "ran" and SAT.1 digital platforms. Additional digital content was also generated, along with weekly webcasts on YouTube and Facebook. The Seven.One Entertainment Group's return to the scene has also been a resounding success from a marketing perspective. For its new Bundesliga content, the Group has acquired five strong advertising partners and created entirely new ad formats for both digital and linear spaces.
Major showcase for the National Football League: ProSieben broadcast all twelve NFL playoff games live for the first time in 2021, some of them even during prime time. The investment in this sport has been worthwhile: "We've been promoting the NFL consistently in recent years, starting with our live broadcast of the Super Bowl megaevent on SAT.1. Today, we broadcast all of the playoff games live on ProSieben. American football has become a well-established sport in Germany. We've succeeded in making the NFL even more popular in this country thanks to the wide reach of ProSieben. Though initially small, the NFL fan base has grown into a huge community thanks in part to our digital activities on ran.de and on our social media feeds," explains Alexander Rösner. The digital content lets fans follow the livestream of all matches on ran.de, on the "ran" app, on prosieben.de and on Joyn.
On the ball: Presenter Matthias Opdenhövel, commentator Wolff-Christoph Fuss together with reporters Andrea Kaiser and Matthias Killing cover German Bundesliga games live on "ran SAT.1 Bundesliga."

Soccer for everyone: To mark the start of the new German Bundesliga soccer season in SAT.1 in summer, the station's biggest advertising billboard – a tailor-made 14- by 10-meter piece of artificial turf – was on display in Berlin. The message was clear – Bundesliga fever is running high. Afterwards, the artificial turf was donated to the Masaai Vision Primary School in Ngabobo, Tanzania, and transported there in cooperation with the Munich football academy and the Africa Amini Alama organization.

Road to Super Bowl: In 2021, ProSieben broadcast the world's biggest single sporting event live for the fourth time. Commentator Jan Stecker, online community liaison Christoph "Icke" Dommisch together with experts Patrick Esume and Björn Werner accompany NFL fans throughout the season on TV and digitally.

All signals green: In 2021, SAT.1 exclusively broadcast the Formula E World Championship live on free TV. Before, during and after the events, the pace never slackened with the "ran racing" team's seasoned motorsport presenters Andrea Kaiser and Matthias Killing who, together with commentator Eddie Mielke, talked to drivers and offered exclusive insights into Formula E. Motorsport icon Christian Danner and Formula E racing pioneer Daniel Abt also stepped up as experts and co-commentators.

14 races with 24 drivers pushing the limits with 340 horsepower and a top speed of 280 kilometers per hour: The Formula E World Championship in 2021 not only thrilled viewers with nail-biting racing but also combined motorsport with pioneering technologies highlighting such topics as sustainability and e-mobility.
Sustainable motorsports gets the green light: SAT.1 focuses on a topic of the future by broadcasting the first Formula E World Championship to enthusiastic fans last year. In addition to the live TV and online broadcasts, the ProSiebenSat.1 Group's Entertainment segment has created a full-service package by putting content on its own platforms to accompany the innovative racing series: background reports and results on ran.de, exciting video content on the "ran racing" YouTube channel and current information on goingreen.de, a mobility and sustainability platform. "Formula E is a perfect example of how we in the world of sports also need to embrace the future in order to keep growing. In our live broadcasts, we don't just talk about the sports aspect of Formula E, but also touch on socially relevant topics such as sustainability and e-mobility. This makes the Formula E World Championship fun and enticing for viewers and advertisers alike," explains Alexander Rösner. Even before it got off the ground, Formula E was already generating great interest among advertisers, resulting in Formula E content being launched on all relevant platforms for the respective target audience. For instance, editorial coverage of the e-racing series kicked off with "Formula E Inside – The Mercedes-Benz EQ Formula E Team," which also covered the trending topic of electromobility. In addition to being broadcast on SAT.1, both the show itself and highlight clips were added to Seven.One Entertainment Group's digital content offerings on sat1.de, ran.de and to the social media pages of "ran."
The National Hockey League celebrates its premiere on ProSieben MAXX: "With our NHL coverage, we're now bringing the next big sport from the US to Germany," says Alexander Rösner. "Hockey is a favorite not only in the US and Canada. Here in the German-speaking regions, we've also got a long tradition and a large, steadily growing fan base." ProSieben MAXX has been broadcasting the world's top hockey league live since February 2022 and will be showing up to 18 games per season exclusively on German free TV. Fans can find the complete #ranNHL package including videos, news, match reports, results and standings at ran.de. Even before it began broadcasting the NHL matches, Seven.One Entertainment Group set the mood by showing game highlights during football matches on ProSieben MAXX, ProSieben and ran.de. Alexander Rösner says: "In terms of programming, the NHL is the perfect follow-up to the end of the NFL season and the Super Bowl as the games fit seamlessly into the accustomed Sunday sports slot. Basically, we keep a close eye on the market to identify any additional sports licenses that would make sense for our broadcasting group and our viewers."
SAT.1's live Bundesliga soccer matches regularly attract around
10 million
viewers (net reach from age 3).
The live broadcast of the 2021 Super Bowlon ProSieben attained an outstanding market share of
58.4

%
(ages 14-49).
Thanks to #ranNFL, ProSieben MAXX had the mostsuccessful day in its broadcasting history with a daily market share of
4.4%
(ages 14-49).
Formula E capped off a strong premier season onSAT.1 with a record
9.1%
market share for the finale in Berlin (ages 14-49).
The Meet Group
The ROI of Safety
For The Meet Group (TMG), user safety is table stakes. ParshipMeet Group's video business not only relies on more than 500 paid full-time moderators, but also leverages sophisticated artificial intelligence (AI) to detect unwanted content that violates its community standards, to the benefit of creators and their supporters alike. Or, as Geoff Cook, Co-CEO of ParshipMeet Group and CEO of The Meet Group puts it: "I was recently asked: 'What is the ROI of safety?' My response: 'What is the ROI of being able to sleep at night?' At TMG, we care passionately about our audience and have made the decision over and over again to prioritize their wellbeing."
TMG's investment in safety has long been part of its business model as the company has successfully grown with livestreaming video offerings. Today, TMG's talented creators produce around 200,000 hours of content every day on its owned-and-operated and various third-party platforms. Against this backdrop, moderating every app and community to the same high standards in real time can be a Herculean task.
How is it possible for TMG then to maintain a 1-minute or less response time between when a stream is reported and when a paid moderator puts eyes and ears on the live video? By making safety and security a constant priority – and by collaborating with best-in-class industry thought leaders. Over the past few months, two such partnerships were strengthened.
Our leading safety standards creates what we believe is a model that others in the livestreaming video industry may look to follow.

Co-CEO ParshipMeet Group and CEO The Meet Group
In July, TMG deepened its relationship with Spectrum Labs, an AI technology provider able to detect and shut down toxic exchanges in real time. The partnership includes a significant research and development commitment into voice moderation aimed at protecting users from online toxicity, hate speech, and abuse in TMG's livestreaming products.
According to Geoff Cook, "the combination of Spectrum Labs' technology and moderation solutions with our leading safety standards and processes creates what we believe is a model that others in the livestreaming video industry may look to follow."
Just a few months later, another collaboration in the safety and security area was sealed when the Oasis Consortium formally launched with TMG as a founding member. Oasis has dedicated itself to bringing together leaders from metaverse industry players and helping them establish and meet safety and security standards in a variety of fields, among them privacy, inclusion, and hate speech.
"By pledging to practice Oasis Consortium's User Safety Standards, we believe we are contributing toward a safer, and more inclusive Web 3.0. The work of keeping our communities safe is never over," says Geoff Cook. "We owe that to our community of millions of people who return to our apps again and again to meet, date, and love."